Projects
Here you can find out about the poetry project Amanda is currently participating in and about past poetry projects she has participated in.
Current Poetry Project
UPCOMING: The Poeming 2017
Past Poetry Projects
The Poeming 2016

The Poeming 2016 was a found poetry project in which 56 poets each used one of Stephen King's novels as a source text from which to write a found poem per day for the month of October. Amanda's source text was The Running Man, which she had not read prior to the project. Amanda's poems were posed on a Tumblr blog she called Running Mad. Though she may take it down at some point, it is still available should you wish to check it out. She'll be participating in The Poeming 2017 as well, so stay tuned.

Found Poetry Frontiers June-October 2015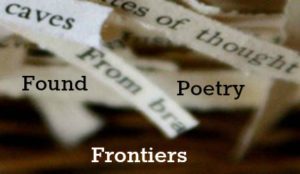 Found Poetry Frontiers (FPF) was an international group of poets writing found poetry as they explored the world through virtual tours. During one tour, poets used sites and articles about assigned locations, such as Bangalore and Gorizia, as resources for found poetry. During another tour, for 22 weeks, one Poet Guide per week posted information and links connected to their hometown, current city, or another chosen location. Poets then virtually visited these locations and wrote found poems using the material.
Amanda was a Poet Guide for the city she grew up in, Toledo, Ohio, for the week of October 5th. Her tour included the posts Welcome to Toledo, OH, The Glass City, Toledo's Bodies of Water, and More to See in Toledo.* Her poem "The Secret" was sourced from  a Toledo Blade article about Tony Packo's secret sauce. *Unfortunately the FPF website is no longer available, but at some point she will repost the Toledo tour posts on her blog Embracing Adventure, so stay tuned over there if you're interested.
Poetry Month Scouts (PoMoSco), April 2015

Poetry Month Scouts was The Found Poetry Review's 2015 National Poetry Month Project. 200 poets completed found poetry prompts in the categories of Remixing, Erasure, Out and About, Conceptual, and Chance Operation. 30 prompts were available while 15 were required for participation.  Each prompt had a different point value attached with the option to earn up to 300 points and the rank "Laureate Scout". Amanda completed 15 prompts worth 250 points, earning the rank "Bard Scout". You can read her intro to the project and a self-interview here. She discussed my experience with the various prompts she tried in a series: Part 1, Part 2, and Part 3. Though the poems themselves aren't currently available to read, you can see an excerpt of one of the poems in Part 3. The PoMoSco site is currently behind a splash screen. Those who would like access to the site or poetry prompts can direct requests describing their interest to editor@foundpoetryreview.com.

Pulitzer Remix, April 2013
Pulitzer Remix was a 2013 National Poetry Month Project headed by The Found Poetry Review during which 85 poets from 7 countries created found poems using Pulitzer Prize-winning works of fiction. Each poet chose or was assigned one book and was asked to post one poem per day. Amanda chose Jhumpa Lahiri's Interpreter of Maladies, which she had read as an undergrad. You can read her introduction to the project here and her experience with the project here.
During the project, more than 2500 poems were posted with over 12,200 comments and 180,000 page views. Project coordinators are pursuing an edited print collection featuring poems from the project. Thus, site access is currently restricted to the main page. However, educators and publishers may be provided site access upon request. Access requests should be directed to Found Poetry Review Editor-in-Chief Jenni B. Baker at  editor@foundpoetryreview.com.
SaveSave