Blogging
Amanda runs two of her own blogs, is a contributor on a couple of community blogs, and has contributed content including guest posts and interviews for several other blogs.
Amanda's Blogs
Embracing Adventure: This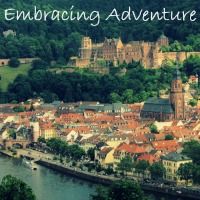 is Amanda's main blog in which she writes about daily life in Germany, her travels in Europe, language learning, going to grad school, being childfree, and more. She also posts about creative writing and books and authors.
Investing in Fitness: Amanda documents her fitness journey here and posts on fitness and related topics, such as nutrition and improving wellbeing.

Blogs Amanda Contributes To
Amanda is a contributor to the community blogs Fantasy Rantz and Germany Ja. She also contributed a series of posts to a virtual tour of Toledo, Ohio for a poetry project she participates in called Found Poetry Frontiers. You can see her contributions to each as well as guest posts and interviews she has contributed to other blogs below.
Fantasy Rantz
*Game of Thrones TV Series vs A Song of Ice and Fire Book Series
*Vampires & Zombies: Why One Is Getting Sexier & the Other Isn't (or at Least Shouldn't Be).
*In Defense of Video Games
Germany Ja

*Learning German with FluentU
*Receiving Your Car in Germany
*Shipping Your Car (POV) to Germany
*Mainz Fasching Parade
*Getting an American Tourist Passport in Germany
*The Chocolate Museum (Schokoladenmuseum)
*On Base Housing: Vogelweh Air Base
*Pre-Orders Preparations
*Cafe Rossi
*PCSing Our Pet Pooches
*Visiting a German Dermatologist
*On Post Housing: Heidelberg
*Military Installation Overview: USAG Heidelberg
*Favorite German Products
Found Poetry Frontiers
*Welcome to Toledo, OH
*The Glass City
*Toledo's Bodies of Water
*More to See in Toledo
You can find out more about Found Poetry Frontiers here.

Guest Posts & Interviews

*Getting Out to Explore (Interview) on MultiCOOLty
*Cake in a Jar on Ech & Will
*Things I Miss in America on Land of Candy Canes
*Things I Love About Living in Germany on Land of Candy Canes
*Interview about Heidelberg for Military Monday on Handling With Grace
*Heidelberg Germany on the Summer Vacation Tour on Oaxacaborn
*The German Dining Experience on Life Lessons of  Military Wife
*The Cost of Living in Germany on Life Lessons of  Military Wife