Web Presence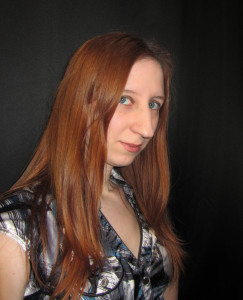 You can find Amanda in several places around the web.
Pinterest: This is the social site she is most active on, though not the most interactive on. She pins on reading and writing, wanderlust and travel, language learning, fitness, recipes, art, crafts & DIY, and more.
Facebook: Amanda has a writer page where she shares publication news, Embracing Adventure and guest blog posts, and articles about reading and writing. On her fitness page, she shares new Investing in Fitness posts and other fitness articles. On her artist page, she shares quilling and other art and art-related articles. She is also a contributor on a page for Gun Toting Geeks, a business she and a friend started to gun toting geeks gun-themed and fandom-inspired shirts, jewelry, and decor.
Instagram: Amanda's first Instagram became all about her dogs and sunsets. They're pretty cool dogs, and sunsets are beautiful, so if you like those things, check that out. She also now has Instagrams for Embracing Adventure where she posts travel and adventure photos, Investing in Fitness where she posts fitness-related photos, PhoenixxPhyre Creations where she posts some of her artwork, and PhoenixxPhyre Defense where she posts about firearms and self defense.
Goodreads: Amanda has an author page and also keeps track of the books she's read. You can also see how she is doing in her 2016 Reading Challenge.
Twitter: Although Amanda is obviously a little too wordy to use Twitter regularly, you can find her there occasionally. Aside from tweeting links, you can find commentary on the shows she's watching and the video games she's playing, and sometimes even get her thoughts on current events.
YouTube: Amanda's Embracing Adventure channel is mostly for clips to illustrate blog posts, the occasional vlog, and playlists. Her other channel is, so far, just for playlists connected to her fitness blog.
Google+: It took Amanda a minute to figure out how to get the link for this, so you can guess how often she uses it. She doesn't even really know what it's for except that Google insists on connecting her YouTube to it. But since it's apparently been viewed thousands of times, she should probably start figuring it out.
HitRECord: She hasn't made time to get on it lately, but Amanda used to be on HitRECord quite a bit and particularly enjoyed making remixes.
Looking for which blogs Amanda contributes to? Those are here.
SaveSave